Barbara Sheree - Billboard recording artist and actress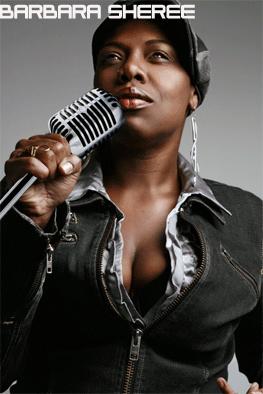 Barbara Sheree , Philadelphia born soul singer began singing at the early age of 7. She was born to International recording artist Bobby Bennett and Brenda Kellam.
Starting very early , Barbara began soloing at church and then in school and community choirs.  She had a love for music and harmony, playing the trombone and the piano. During those early years she was featured several time in local newspapers for performing at events.
After complete high school she attended Temple University and immersed herself in the Philadelphia music scene. She attended open mic venues and showcases until meeting with the producers of her first EP "Sensual Soul" , produced my HitSquad productions. 
This EP had wonderful reviews and allowed Barbara to open up for acts such as Keith Sweat at the acclaimed HOUSE OF BLUES to opening for MUSIQ SOUL CHILD and KEM at Boardwalk Hall. Along with performing with or opening for artist like Yolanda Adams, Barbara Tucker , AL. B. Sure , and Patti Labelle  and a host of others. She has toured as an indie artist with the ""PANTEEN TOTALLY YOU TOUR" as well as the "EBONY BLACK FAMILY REUNION TOUR".
Once gaining notoriety Barbara Sheree was a regular performer throughout the Philadelphia, New Jersey , New York and Delaware venues.  All while touring the East Coast she was working on her 1st full length project "Love and Live" with SOUND FOUND PRODUCTIONS but before its release, Sheree  was selected to participate and solo on NBC's "Clash of the Choirs" with legendary artist such as Patti Labelle , Blake Shelton , Kelly Rowland and others.
     After delivering an emotional and riveting performance Barbara was truly on the incline in her career . From leading roles in Plays ( "SHOW and TELL") to performing behind acclaimed opera singer Jesseye Norman. Barbara showed her versatility as an artist. In 2010 Barbara Sheree released a House music EP and her first single on Continuous Cool records made it all the way to the BILLBOARD Charts. " TOGETHER "was a success and was played around the world. She soon began to tour clubs across the country ending  it with  the huge event, CAPITAL PRIDE in Washington DC in front of thousands of people.
In 2011 Barbara made her first appearance in Morocco at the Luxury Hotel, Sofitel Jardin de Rose in Rabat. She was so well received that she was asked to return. First in Essaourira (March 2012) , Casablanca (June 2012) and Agadir (Sept2012-2014).During her residency at  Sofitel Agadir Thalassa Sea and Spa, she was featured in travel magazines and interviewed and guest performed for LUXE RADIO for a week.  
Barbara Sheree is now available for booking and has experience working with large bands or as a  duo. Her repertoire extends from Jazz and R&B , to top 40 and rock and every other genre in between. For booking inquiries go to