Barbara Sheree - Billboard recording artist and actress - ARTIST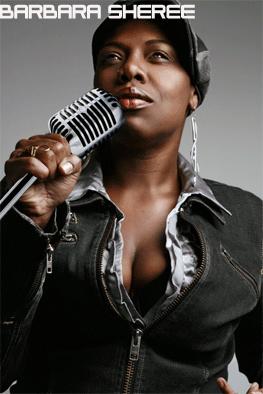 Barbara Sheree, (Born Barbara Sheree Kellam SEP 6 1977) is a powerful soul singer from Philadelphia, Pennsylvania.  Born to a musical family, father Bobby "Guitar" Bennett and mother Brenda Kellam, Barbara was destined to shine.  Barbara developed a love for the arts early on and began singing at a young age in church and school choirs.  During these years she also began to incorporate her passion for writing and poetry into music. 
Barbara attended Temple University but during her time there decided that music was her purpose in life and embarked on a journey to share her gifts with the world. Her first EP was produced by the HITSQUAD and SOUND FOUND MUSIC in Philadelphia and had several well received songs.  This helped open doors which landed her on stages across the country. Barbara participated in The Pantene Total You Tour, the Ebony Black Family Reunion Tour. Barbara was certainly making her mark as an artist.  After touring and promoting her EP "Sensual Soul", Barbara began working on her follow up "Love and Live" .  
Little did Barbara know that her journey was about to take another amazing turn that would land her on NBC's "Clash of the Choirs"!  Barbara was chosen by Patti Labelle to represent Philadelphia on the televised competition.  Patti Labelle was quoted as saying "You are the first person to give me CHILLS" in reference to Barbara's audition.  Barbara went on to sing a rendition of Mary J Blige's "No More Drama" for the finale of the show and it was a smashing success!  This helped to expose Ms. Sheree on a national level as over 8 million viewers tuned in for this performance.
Since then Barbara has gone on to sing with legendary artist like Patti Labelle, Verneesa Mitchell, Deepa Soul, Barbara Tucker, Melissa Morgan, Jessye Norman, Donnie Mcclurkin, Deborah Cox, Keith Sweat, Pamela Knight, Yolanda Adams, Lisa Lisa, Doug E. Fresh, Musiq, Al B. Sure and Kem! 
In January of 2010, Barbara released her first dance hit. Working with Dance music legend Jerome Farley, her single "Together" made it to the Billboard Dance and Club Play Charts peaking at #37 after spending 9 weeks straight on the chart.  "Together" was then remixed and played at clubs around the world by some of the worlds most renowned DJ's. Her follow up single "Power to the People" made #1 on dance charts in Spain and was played widely in Europe.
Barbara is currently working hard on other great dance hits and is also planning an r&b/soul album soon. 
She is also the lead in a family musical "Show N Tell" directed by Step Stewart of the Dr. OZ show.
In short, Barbara Sheree is a gift and talent who delivers a huge amount of energy and passion to every performance. She captivates crowds from Philadelphia to Morocco and her versatility makes her a unique breath of fresh air to the entertainment industry!
Leonard Dozier -SAG Actor/ADDY Award winner - Actor, Producer, Writer and Singer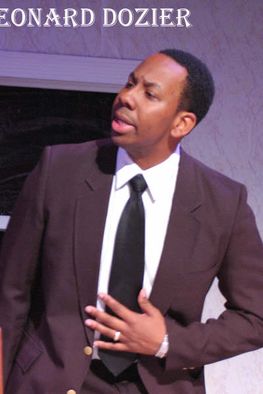 LEONARD DEMAR DOZIER WAS BORN ON FEBRUARY 20, 1979 in Somers Point, NJ. However, he grew up just a few minutes away in a small town called Pleasantville. Whether as a basketball phenom, the grand marshall in a parade, delivering Martin Luther King's "I Have a Dream" speech at churches, or as a salutatorian and class president of his high school class, he is undoubtedly a fixture in Pleasantville's history.
 After many years of notoriety as a basketball player, Leonard turned to acting during his sophomore year in high school after convincing the principal at his high school to pay for acting classes for him. A year later, he founded Cineplay Productions while also getting cast in Showmakers Theater's production of Bram Stoker's Dracula as the maniacal Renfield  Later that year, he was cast in Showmakers Theater's riveting production of "A Few Good Men." His performance, according to director Helen Vaspoli, was "among the finest she had ever seen in her 40 years of theater." Following high school, and upon being selected as an Edward J Bloustein scholar, he was accepted to The University of the Arts, Montclair State University, the American Musical and Dramatic Academy, and Fordham University for which he chose in honor of one of his childhood heroes, Denzel Washington.
As a singer and songwriter, he was selected by the Songwriter's Circle to perform at the world-renowned Bitter End in New York City. In 2004 he co-wrote and produced "When I Say" with Grammy-nominee George Mesterhazy , which was later released on his 2007 CD "Song of Leonard."
As an actor, he recently starred as  the wealthiest African-American in the country circa 1900, Colonel John Mckee, in the stage production "A Gift From John Mckee"  and is set to play Reverend Johnson in the new television series "Cream." He is also set to star in a stage musical about the life of the legendary Luther Vandross, written by him, for which he will play Luther. His resume also includes a recent starring role in the world-premiere production of "Heartbreaker" in Waterford, Connecticut as well as a starring role in the world-premiere musical "Battlecry," directed by Tony-nominee and Broadway's Gabe Barre with music composed by Hollywood's Paul Bogaev. Adding to his history of playing leading men, he was also the leading man in the off-Broadway world-premiere of "Make It So," the touring production of "Halfway There," and Cineplay's very successful rendition of "A Raisin in the Sun, which also toured. He was also a supporting actor in Hollywood producer Polly Wilkinson's television pilot, "South Jersey Dreams."
Among his current projects are Cineplay Production's first film titled "Quiet Storm: Memoirs of a Ladykiller" and a stage musical about the life of the legendary Luther Vandross written by him for which he will play Luther. Additionally, Leonard was the voice behind American Idol Ruben Studdard's national television promo which was seen on BET, LIFETIME, and MTV. He has voiced documentaries for the National Urban League and Bravo Film and Video. Also, his audiobook narration of Dr. Creflo Dollar's "8 Steps to Create the Life You Want" is in major bookstores nationwide. He is newly signed to the two of the most prestigious agencies in New York for commercials, theater, television, and film.