Leonard Dozier - Accomplished actor, Addy award winning voice actor and ASCAP singer/songwriter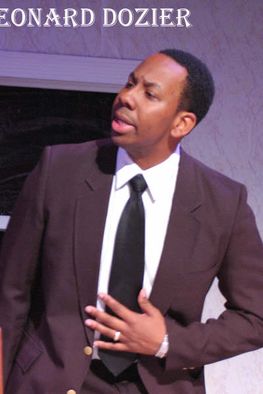 "I have just fulfilled one of my biggest dreams as a voice actor and now it's like the sky's the limit in all areas of my career…" 

Multi-faceted actor, voice actor, recording artist, songwriter and musician Leonard Dozier is referring to becoming one of the primary voices for NFL Films, the iconic organization responsible for producing renowned and consistent television content.  "Just being one of a small group of narrators is really a thrill," says New Jersey-born Dozier, whose distinctive voice can be heard on the 2016 television program "NFL  Films Presents: Tommy Brasher," about the legendary defense line coach; on "Dontari Poe" and "Super Bowl LI, The Greatest Comeback in Super Bowl History." Leonard adds, "It's been one of my longtime, lifetime goals since doing voiceover work at the age of nineteen.  Just being one of the new voices of NFL Films  has already boosted my stature and profile enormously, both personally and professionally."

Dozier's ascent into the upper echelon of voiceover professionals is the culmination of twenty years of work that has seen him appear in a number of key theatrical roles, including his memorable portrayal of AME founder, Bishop Richard Allen in the Emmy-nominated docudrama, "Fever: 1793" and in the same role for the documentary, "Apostle Of Freedom."

Unquestionably spurred on by his delivery in high school of the late Dr Martin Luther King Jr.'s groundbreaking "I Have A Dream" speech, Leonard's interest in acting was further stimulated through his own stage adaptation of best-selling author Walter Moseley's Devil In A Blue Dress, which he created through his own theatre production company (Cineplay Productions) at the age of seventeen.  A career in acting seemed like an inevitability when he went to Fordham University – and yet, Leonard recalls, "my focus was actually on singing and on music. Acting was almost like a tertiary aspect of what I was doing.  Once I got a record deal, that was my focus."

As it turned out, during the course of recording what would (at the time) been his first album for a major record label, Leonard was fortuitously 'side-tracked' by engineer/producer Andrew Manzano, who offered him free studio time in exchange for Leonard's distinctive tones on a promotional spot for another artist.  "When he first presented the idea, my response was 'what are you talking about?' forgetting that I had been doing the morning announcements at school for four years.  I was not interested at all in being a voice actor!"

When corporate politics resulted in the dissolution of his record deal, Leonard found himself turning his attention to acting and voiceover work. Over the course of the last decade, Leonard – who has been nominated twice for prestigious Broadway World Best Actor awards - has appeared in a variety of key stage and film roles, most notably in the Ernie Hudson/Todd Bridges (Nollywood Oscar-nominated film) Turning Point; in a number of August Wilson plays including Ma Rainey's Black Bottom, The Piano Lesson, Fences, Joe Turner's Come And Gone and in the world-premiere of A Gift From John McKee; in Battlecry (written and produced by Emmy winner Granville Burgess, directed by Tony-nominee Gabe Barre and musically directed by Emmy and Grammy-winner Paul Bogaev); in the world-premiere stage reading of Meet the Earth (written by noted playwright Daniel Damiano); and in the role of Walter Lee Younger in the stage classic A Raisin in the Sun.

While Leonard's ongoing commitment to do film, television and stage work has been evident throughout his career, he admits that "success in doing voiceover work has been the big surprise."  He considers his work in 2012's Hollywood-produced movie Legends Of Oz (alongside Dan Ackroyd, Jim Belushi, Kelsey Grammer and Lea Michele) as the primary catalyst that led to the creation of "Get Behind The Mic," his now-nationally-known workshop, highlighted in mega-union SAG-AFTRA's magazine, distributed to its thousands of members.

"The original idea was to host one workshop to give people the nuts and bolts of how to get into the voiceover business," says the genial man with the golden voice, who can be heard as the official voice for Boomtown Casinos (which netted a Silver ADDY award for Best TV and Radio Spot in 2012). "That was in 2012 in Ocean City, New Jersey – and it was originally going to be done once a year.  I've taken the one-day workshop to six to seven cities each year and with the help of SAG-AFTRA, I've worked with over four hundred people.  I do online classes and currently have over fifty private students; the workshop includes a lab component in a studio with me directly coaching people and offering personal evaluation as well as a business component where I talk about what it takes to be successful in the world of voiceover work. It's really rewarding to be able to pass on what I've learned to support people in achieving their goals."

The man whose voice has been heard on commercials for singer Ruben Studdard, for the audio animated anthology Nightseeker,  for PHMG (the leading international audio branding company), for Bible translation narration company JAARS, for Centerlight Health and on audiobooks by Dr. Creflo Dollar ("8 Steps to Create the Life You Want") and Ron Gardener ("Take Brave Steps") says that initially, "I saw voice acting as something that was completely anonymous.  However, doing my workshops and now working with NFL Films means that's no longer the case and I'm ok with that!  It's been surprisingly rewarding and I have to admit, I never saw it coming when I was originally thinking of a career in music…"

Leonard's ongoing and original love for making music has in fact continued throughout the demand for his voice and stage acting.  His self-produced 2011 "Vitamin L" album resulted in radio play and a video for the track, "This Thanksgiving."
Released in 2016, Leonard's next CD, "Soul Of A Pisces," consisted of all original material other than three remakes, standout versions of Gil Scott-Heron's timeless piece, "Gun," Kenny Lattimore's "Never Too Busy" and "She Drives Me Crazy," an '80s hit for Britain's Fine Young Cannibals, given a soulful reinterpretation. 

Two Dozier-penned songs, "Nothing Sweeter" and "Soulmate" (for which Leonard wrote all the parts for the instruments on the track) garnered strong acclaim and airplay. "I made the two albums because I missed making music," says Leonard, who cites Luther Vandross (about whom he's writing a work-in-progress script for a proposed biopic) and Will Downing among his vocal influences and musical heroes. "I'd love to see where music takes me, particularly as a way to get back into performing."

Now in 2018 comes Leonard's fourth album, "Sunday Word" (due for release in the spring), preceded by the exceptionally infectious single, "Fly," a pop-flavored soul-infused original tune, penned by Leonard with collaborator (former Atlantic recording artist) Jamie Myerson.  With a more immediate response than to his previous work - in particular from college radio and internet play - "Fly" is somewhat of a musical departure for Leonard, who notes, "It hearkens back to the late '70s/early '80s sound of artists like Hall & Oates and I think that pop/R&B style from that time is coming back in vogue now.  Honestly, I believe this track has all the elements – the song, the production, the arrangement….it feels like my best recording to date!"

The solid audience Leonard has been building for his recordings are in for a treat with his upcoming set. "We're doing a remake of Michael Jackson's classic "Human Nature" with a universal, world music kind of flavour and another cover of a James Taylor song from the mid-'80s, "Song For You, So Far Away."  I recently created a new band, The Leonard Dozier Experience and that's who I am recording the album with – live in the studio."

As for the CD's title – "Sunday Word" – Leonard explains, "I've been doing a social media blog for a while reflecting on a variety of subjects – sports, music and so on. That's the origin of the title for the album which I would describe broadly as 'message-oriented."

With two acclaimed albums to date, a new single gaining momentum and a third record in process as well as his increasingly busy schedule as a voice actor, the married father of five reflects with justifiable pride, "I've achieved the first two goals I started out with when I began my career behind a microphone a few decades ago - doing my first Hollywood film (Legends Of Oz) and working with NFL Films and there's nothing like it – truly, the sky's the limit!" 


--David Nathan is the founder of Soulmusic.com and is a renowned journalist and biographer who has profiled many legendary artists such as Aretha Franklin, Lionel Richie, Luther Vandross, Toni Braxton, Alicia Keys, Usher and Whitney Houston. He is an advisory board member of the Rhythm and Blues Foundation.